Chapter 4
Second Pillar: Expanded and Enriched Learning Time and Opportunities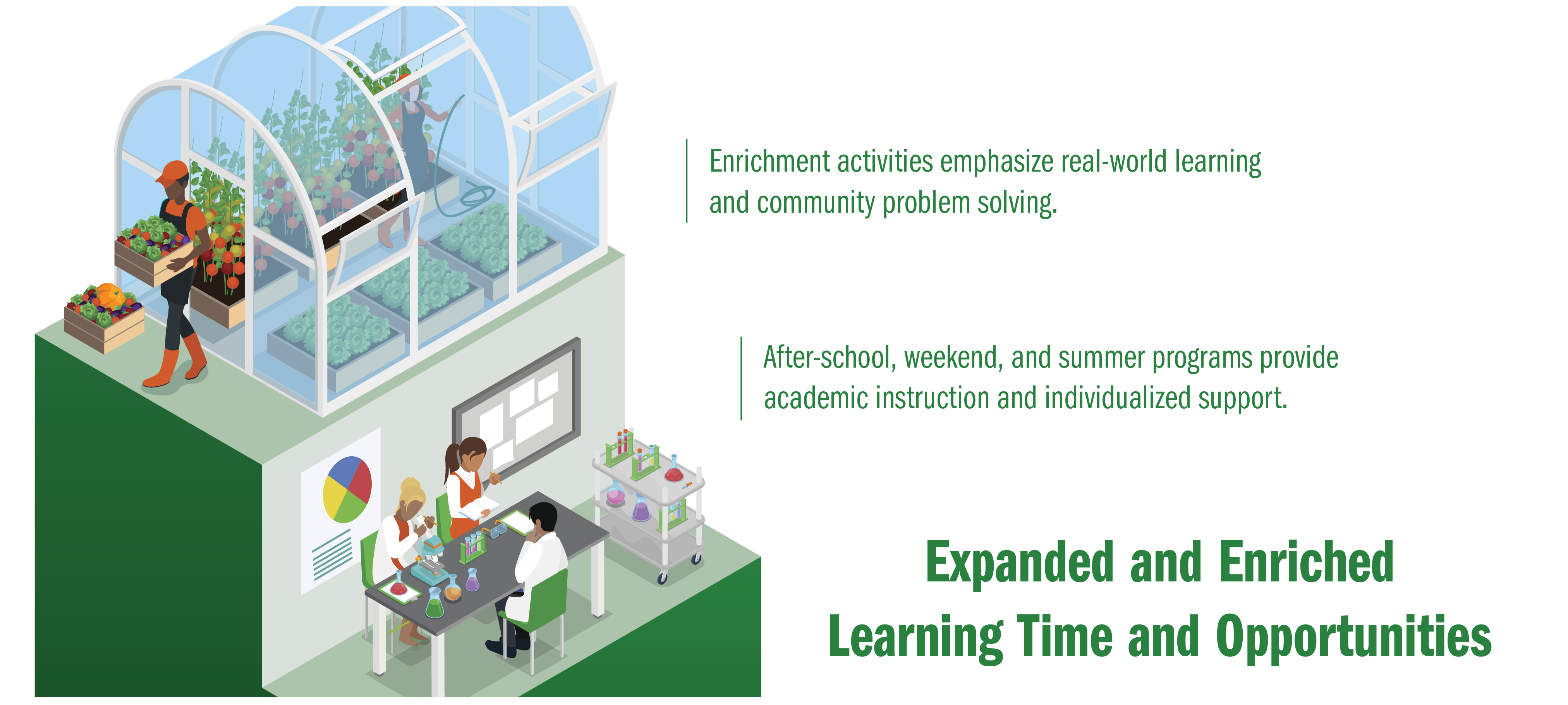 ---
&nbsp

Expanded and enriched learning time and opportunities, the second pillar of community schools, are essential to schools' capacity to support students' academic growth, as well as to help them develop socially, emotionally, and physically. In addition to supporting rich, student-focused instruction in classrooms, community schools provide students with as much as one-third more learning time, in which they experience arts, physical activity, small group, or individualized academic support, and hands-on learning activities across a range of subject areas.

In high-quality community schools, educators collaborate with community partners to provide well-structured learning activities during out-of-school time and summer, using school facilities and other community spaces. This approach makes clear that enriched learning time is the responsibility of both schools and communities. Programs vary, depending on community priorities. For example, in Boston, students visit communities to examine environmental justice topics with a broad range of community partners, including Outward Bound, Boston Harbor National Park, Boston Nature Center, and the University of Massachusetts, Boston. In Oakland, academic learning is organized around career themes and partners with local businesses for internships, job shadowing, and volunteer opportunities.

In many community schools, partner organizations, in collaboration with teachers, also support academic and other learning during the regular school day, through internships, service learning, Linked Learning, STEM programs (science, technology, engineering, and math) and other community, arts, or work-based opportunities.

Some community schools lengthen the regular school day and/or year to provide more required classroom time, as is the case in New York and Boston. Whether required or voluntary, well-designed, expanded learning time and opportunities are aligned with the schools' curriculum and learning goals.
Why Expand and Deepen Learning Time and Opportunities?
Young people spend a small fraction of their waking hours in schools. However, those who live in more affluent communities have access to academic support and enrichment beyond the school day and year, including tutoring, experiential learning (science and computer coding camps, for example), sports, music, and art. Consequently, these students have more learning time and more opportunities to succeed in life.7 These advantages are not accessible to all students. Due to uneven distributions of both public and private resources, families living in low-income communities usually lack access to these rich supplementary learning opportunities.
These differences in learning opportunities widen the achievement gaps between young people from high- and low-income households.
These differences in learning opportunities widen the achievement gaps between young people from high- and low-income households. Policies that expand and deepen learning time and opportunities can help close these gaps.8 Rich opportunities to learn can increase academic and beyond-academic outcomes, including improved student attendance, behavior, and achievement, higher graduation rates, development of social, emotional, and leadership skills, and reduced involvement in juvenile crime.9
In community schools, community partners can provide supplemental academic instruction, enrichment, one-on-one mentoring and tutoring, projects where students pursue their own interests, and learning activities beyond the school campus, including community-based learning. These partners should work in collaboration with the schools' educators so that the learning is connected and not just an add-on. This strategy allows community schools to draw on the rich cultural and social resources in communities that are often absent from traditional schools. It also increases the number of knowledgeable adults from whom students can learn—again, something that advantaged families are able to routinely provide to their children. These additional adults can support and mentor students, increasing their access to expertise and community role models. They also provide students a greater chance to develop trusting relationships that foster meaningful learning and development and can offer additional support that responds to students' needs.
Another compelling reason to make expanded and enriched learning time and opportunities a key element of community schools is that this approach supports curricula and instruction that leads to deeper learning and fosters sustained school improvement. This is especially important in schools where testing and accountability pressures have reduced or, in some cases, eliminated students' access to a broad array of content—social studies, science, art, music, and physical education. When teachers and community partners collaborate to plan and provide access to a broader curriculum, students have the opportunity to pursue non-tested content and deeper learning pedagogies, such as project-based and experiential learning, both during and beyond the conventional school day.
The Need is Great and Public Support is Strong
Curriculum inequalities between schools serving different communities are such that white and more advantaged students are more likely than those in low-income communities of color to have enriched learning opportunities (including the arts and advanced academics) as part of their schools' regular programming.10 More than half of all families expressed a desire for a summer learning program for their children, including two-thirds of those living in communities of poverty and half of those living outside poor areas.11
In 2014, parents reported that more than 11 million children (1 in 5 of all school-age children) were unsupervised between the hours of 3 and 6 p.m.12 Parents of approximately 19.4 million children who were not in an after-school program (including both unsupervised and supervised children) said that their children would participate if a program were available. Although this view is shared by parents across all types of communities, 83% of parents in communities of concentrated poverty said that their children would participate.13
Families in all communities believe that after-school programs can help their child develop social skills (86%), gain workforce skills, such as teamwork and critical thinking, and improve his or her school behavior (77%) and attendance (74%). They also agreed that this additional time can excite their child about learning (79%) and reduce the likelihood that youth will engage in risky behaviors (83%).14
Families also view after-school and summer enrichment programs as a source of support for working parents. This is true in all communities, and more than 8 in 10 parents in communities of concentrated poverty agreed that such programs help working parents keep their jobs (83%).15
Eighty-five percent of parents (across political parties, geographies, neighborhoods, and racial and ethnic backgrounds) favored public funding for afterschool and summer opportunities in communities that have few opportunities for children and youth.16
Ninety-two percent of the general public favor public funding of afterschool programs, and 75% agree that schools are justified in seeking additional public funds to pay to provide such services.17
Policy Principles
For maximum impact, expanded and enriched learning time and opportunities should be key elements of policies establishing and supporting community schools, along with the other three pillars discussed elsewhere in this resource. That being said, many states and localities have enacted expanded learning time and opportunities policies on their own, rather than as part of a community schools approach. The discussion and principles that follow draw from the best policies on expanded learning time—whether alone or as part of a comprehensive community schools approach.
The effectiveness of expanded and enriched learning time and opportunities depends on the quality of the policy design and implementation. Policies that include the following strategies are most likely to have a positive impact on school conditions and student outcomes:
Focus additional time on student learning—broadly conceived to include academic, social, creative, and emotional development. Align activities with the school's learning goals. Aim expanded programming at strengthening curriculum and instruction during the regular day, as well as providing additional enrichment and support. Effective programs are not just about safety and supervision before and after school and during summer breaks, as important as those needs are.

Provide sufficient additional time, as research shows that more time is associated with better outcomes. For students to receive the greatest benefit, policies lengthening school days and/or years should add at least 300 hours (or a 25% increase over existing class time). Out-of-school time programs (including afterschool and summer offerings) must provide additional time to accommodate both academic and enrichment activities.18

Establish standards for quality and use them as the basis of quality control, review, and improvement processes.

Support partnerships with community organizations, public agencies, and employers who provide additional staffing and augment programming. These include expanding the spaces in which students learn, as well as increasing the number of adults with whom they are learning and the content of what is being learned.

Design schedules to accommodate families' needs for supervised settings after school and during summer. In programs that are voluntary, attendance should be monitored and reported. Attention should also be given to student recruitment and ensuring that families have information about available resources and voluntary activities.

Include teachers, nonteaching staff, their professional organizations, community-based organizations, and community members as key partners in designing and implementing plans that lengthen the school day or year or change staffing arrangements.

Remove unnecessary barriers to facilities sharing between the school system and community-based organizations.

Target funds and other supports to high-need schools.

Ensure sufficient and sustained funding for program stability.

Allocate funding to support school system partnerships with community-based organizations and professional learning opportunities for both educators and community staff.
Policy Types and Examples
States and localities have used different policy mechanisms to support expanded and enriched learning time and opportunities. Below are some noteworthy examples.
State funding and guidance for out-of-school time learning partnerships
State legislatures have enacted measures that provide funding for school-community partnerships that expand and deepen learning time and opportunities by providing additional programming and staff. In the strongest cases, as illustrated below, these measures provide renewable grants to high-need schools or community partners, along with clear guidance about how programs should be implemented. Some are connected to child and community well-being goals and are jointly administered by education and other agencies.
These differences in learning opportunities widen the achievement gaps between young people from high- and low-income households.
State funding for longer school days and years
State legislatures have enacted measures that provide a solid foundation for longer school days and years by authorizing, defining, and/or funding expanded and enriched learning time and opportunities with incentive grants programs, an increased formula funding, and support for professional development and technical assistance.
Municipal policies that support out-of-school time learning opportunities
Mayors and other municipal leaders play a leadership role in advancing expanded time policies and supporting coordination among programs. Over the past 5 years, at least 77 of the 275 largest U.S. cities have worked to coordinate afterschool options.19 These citywide efforts tend to be governed by public agencies (the mayor's office, a city agency, or the school district), nonprofit organizations, or by networks of organizations that share management and oversight responsibilities. City departments that oversee out-of-school time programs include parks and recreation, community and neighborhood services, police, or youth services. In most localities, partnerships among the city, school districts, and community organizations are key. Mayors, local government, and school boards can increase access to after-school and summer learning opportunities by redirecting existing local revenue or creating new funding sources to support such programs.
Local policies that support longer school days and years
In cities where the mayor has some authority over the school system, the city—in partnership with school boards and teachers' unions—can lengthen the school day and/or year.
Additionally, in some local school districts, school boards, superintendents, and educator unions have collaborated to support longer school days.
---
Implementation
High-quality implementation is a crucial determinant of positive program outcomes. High-quality programs do not happen by chance. They result from policy choices, resource allocations, and technical assistance that support both staff capacity and student participation. They also depend on active family and community engagement, which is addressed in Chapter 5.
Characteristics of high-quality implementation
Expanded learning is part of the core work of the school site. District leaders communicate their commitment to strong expanded learning partnerships, and school site leaders communicate that the afterschool program is a site priority.

High-quality programs monitor attendance, reach out to families when a student is absent, build close relationships with families and youth, and provide support around issues that might undermine attendance.21

Staffing structures blend roles across school day and after-school time, so that some staff work in both settings. Many districts hire school day teachers as "academic liaisons" to the expanded learning programs. These staff members help bridge the school day and afterschool or summer learning strategies and structures.

District leaders encourage and facilitate collaborative staffing through personnel policies, investments in planning time, union contract provisions, and compensation structures.

Teachers, teacher unions, and other school staff are active partners in program development and implementation.

Professional development around integrating and aligning regular day and out-of-school-time programming enables educators and partners to develop consistent practices, shared language, and collaborative relationships.

Community participation is incorporated at every point in the process, from program design to evaluation and plans for program improvement.
---
Endnotes
| | |
| --- | --- |
| 7 | Putnam, R. (2016). Our Kids; Pamela R. Bennett, Amy C. Lutz, and Lakshmi Jayaram (2012). Beyond the Schoolyard: The Role of Parenting Logics, Financial Resources, and Social Institutions in the Social Class Gap in Structured Activity Participation. Sociology of Education 85(2) 131–157, 2012. |
| 8 | Maier, A., Daniel, J., Oakes, J. and Lam, O. (2017). Community Schools |
| 9 | Maier, A., Daniel, J., Oakes, J. and Lam, O. (2017). Community Schools |
| 10 | Journey for Justice Alliance. (2018). Failing Brown v. Board. https://www.j4jalliance.com/failing-brown-finding-and-demands/ |
| 11 | Afterschool Alliance. (2014). America After 3PM: Afterschool Programs in Demand. Washington, D.C. |
| 12 | Afterschool Alliance. (2014). America After 3PM. |
| 13 | Afterschool Alliance. (2014). America After 3PM. |
| 14 | Afterschool Alliance. (2014). America After 3PM. |
| 15 | Afterschool Alliance. (2014). America After 3PM. |
| 16 | Afterschool Alliance. (2014). America After 3PM. |
| 17 | The 49th Annual PDK Poll of the Public's Attitudes Toward the Public Schools: Academic achievement isn't the only mission (2017) Phi Delta Kappan, Vol 99, Issue 1, pp. NP1 - NP32 |
| 18 | Farbman, D. (2015). The Case for Improving and Expanding Time in School: A Review of Key Research and Practice. Updated and Revised February 2015. National Center on Time & Learning. |
| 19 | Four Point Educational Partners, 2017, Governance Structures for City Afterschool Systems: Three Models. New York, NY: The Wallace Foundation. Retrieved August 1, 2018 from http://www.wallacefoundation.org/knowledge-center/pages/governance-structures-for-city-afterschool-systems-three-models.aspx |
| 20 | American Federation of Teachers & Meriden Federation of Teachers. (2014). It's about time: Lessons from expanded learning time in Meridan, CT. Washington, DC: American Federation of Teachers. |
| 21 | Katie Brackenridge, Jessica Gunderson, Mary Perry, Expanding Learning: A Powerful Strategy for Equity. Partnership for Children & Youth (PCY) and Policy Analysis for California Education (PACE) |