Chapter 3
First Pillar: Integrated Student Supports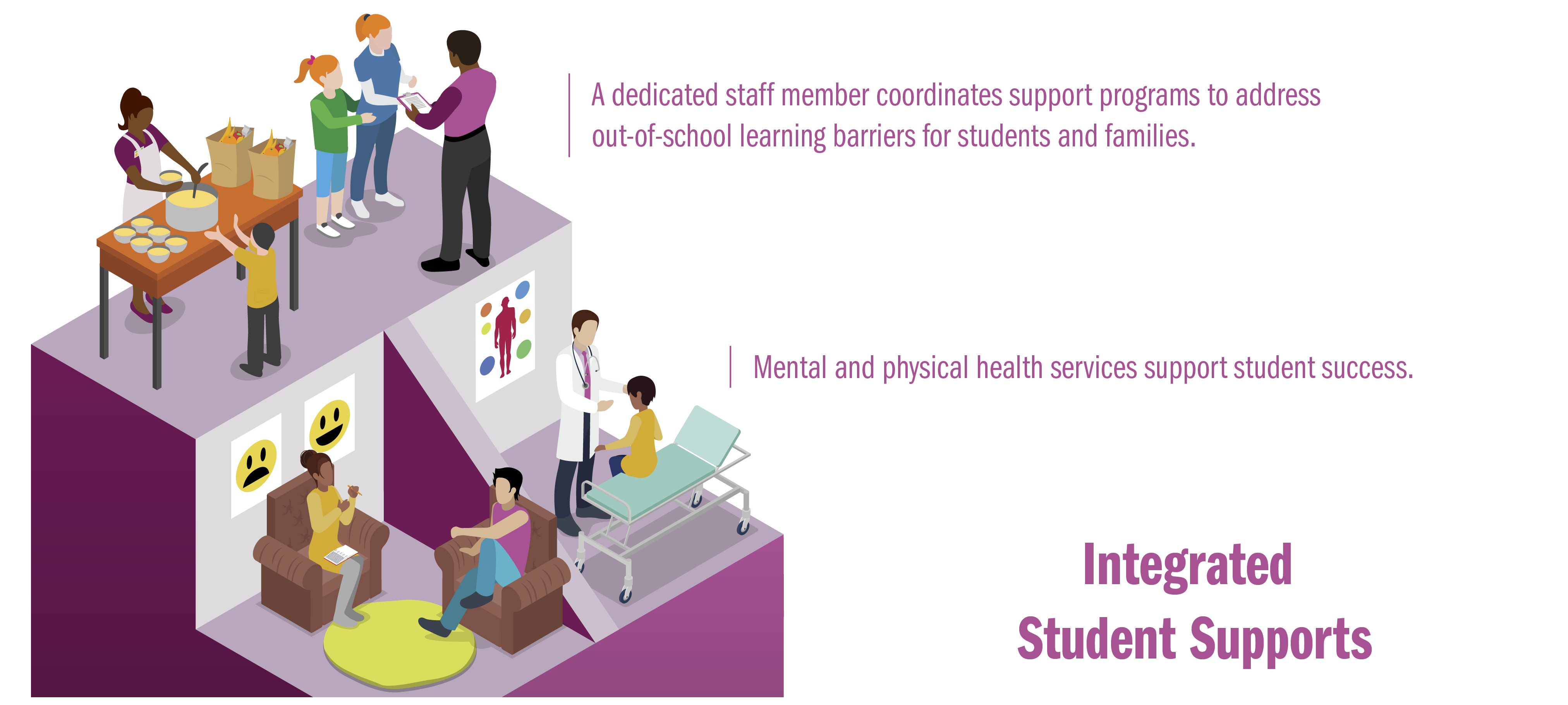 ---
&nbsp

Community schools take a "whole-child" approach to supporting students' educational and life success. This means that they pay explicit attention to students' social and emotional development as well as their academic learning, recognizing that they are intertwined and mutually reinforcing. They provide and coordinate a range of on-site services and supports to overcome both academic and nonacademic barriers to students' educational and life success. The mix of offerings can vary, since they are tailored to meet local needs, but some of the most common services and supports are medical, dental, and mental health care services; tutoring and other academic supports; and resources for families, such as parent education classes, job training and placement services, housing assistance, and nutrition programs. These programs may also provide conflict resolution training, trauma-informed care, and restorative practices to support mental health and lessen conflict, bullying, and punitive disciplinary actions, such as suspensions. Those in the community schools field use the phrase "integrated student supports"6 to identify these critical components of community schools.

There is significant evidence to support this approach. Research shows that integrated student supports are associated with positive student outcomes. Students receiving school-based supports often show significant improvements in attendance, behavior, social well-being, and academic achievement. One of the responsibilities of a full-time community school director is to develop partnerships with community-based providers and connect students and families with available services, as well as fostering a positive and healthy school climate.

It is important to note, however, that the presence of these supports alone does not automatically make a school a "community school." Key differentiating factors include the way in which site-based needs are identified, how the services are provided and coordinated, and their integration with the other community school pillars, especially active family engagement and collaborative leadership and practices. For example, some integrated student supports focus on case management and determine the provision of student services through a top-down approach. In contrast, comprehensive community schools start with a meaningful process for engaging students and families in identifying needs and assets and connecting with potential service-providing partners. Only after these important and inclusive first steps does the community school director begin to develop a plan in collaboration with students, families, staff, and community stakeholders for integrating these services and supports into the life of the school. The trusting relationships established early on in this process provide a stable foundation upon which community schools can continue to grow and improve.

Many state and local policies seek to provide student supports at school sites but stop short of implementing a comprehensive community school. There is much to be learned from these policies. The discussion and principles that follow draw from the best policies on integrated student supports—whether as a stand-alone or part of a comprehensive community school approach.
Why Provide Integrated Student Supports?
Growing economic inequality has profoundly shaped out-of-school opportunity gaps. Today, more than half of the nation's public school students—approximately 25 million—live in low-income households, the highest proportion since this statistic became available in the 1960s. Young people living in these circumstances may experience food and housing insecurity, inadequate health care access, exposure to violence in their neighborhoods, the need to look after other family members, and challenges with learning English and achieving a stable immigration status, among other concerns. All of these circumstances contribute to the presence of chronic or toxic stress, which is well-documented to diminish learning readiness and academic success.
A large number of students face severe challenges outside of school that can impact their ability to do well in school...
Education is seen as one of the primary ways that students, regardless of their life circumstances, are able to reach their dreams. But the reality is that a large number of students face severe challenges outside of school that can impact their ability to do well in school, and these take a toll on schools' ability to provide a high-quality education. A 2015 Communities in Schools poll, for example, found that, on average, teachers in schools serving a high percentage of students from low-income families spend about 20% of their time helping students with nonacademic challenges or problems. Additionally, a 2014 UCLA study in California found that the time lost from instruction is far greater in high-poverty high schools than others because teachers take on added responsibilities to support students' needs. These findings were affirmed in a 2015 survey of teachers named "state teachers of the year" by Scholastic's Edublog. When asked how best to focus education funding to have the greatest impact on student learning, the teachers' top priorities included anti-poverty measures and reducing barriers to learning, such as providing access to health services.
Furthermore, despite increases in the resources that low-income families invest in learning opportunities for their children, the "resource gap" between low-income and more advantaged families still exists. For example, the gap in spending between the poorest and richest families on out-of-school learning opportunities from pre-k through high school has more than doubled over the past several decades, underscoring the importance of additional resources for low-income families and communities to ensure that all children have equal learning opportunities.
The Need is Great—and Public Support is Strong
Although community schools do not solve poverty, they can mitigate its impact on students and families. Hungry children can be fed; sick children can receive medical care; and students whose families can't afford tutors or enrichment programs can get academic and extracurricular support. By providing and coordinating needed services, community schools help ensure that students are ready to learn when they arrive at school each day.
Polling shows that Americans support this approach. A poll released in 2015 found that nearly two‐thirds of swing state voters believe poverty is a barrier to learning, and fully three‐quarters of swing state voters believe it should be a top priority to "make sure all children in my community have an equal opportunity to get a good education, no matter their economic circumstances." Similarly, a 2017 PDK poll found support for providing services to students who don't have access to them somewhere else. For example, 87% of respondents support offering mental health services in schools and 79% support providing general health services. Three-quarters of respondents agreed that schools should be able to seek ad¬ditional public funds to provide such services.
Around the country, school districts and states are capitalizing on this growing public awareness and support by offering integrated student supports as a core pillar of a comprehensive community schools policy.
Policy Principles
The following principles and practices, derived from research and the experience of successful schools, demonstrate how state and local policy can support schools in providing and coordinating integrated student supports:
Policy Types and Examples
Existing local and state policies that assist schools in providing and coordinating integrated student supports fall into two categories: 1) funding for integrated student supports and resources; and 2) regulatory support for integrated student supports service delivery and ease of interagency collaboration.
This section briefly discusses exemplary policies that have been passed in different states, school districts, and cities. These policies are exemplars because they support high-quality implementation of integrated student supports and are compatible with the other three pillars of the comprehensive community schools approach. Note that community school pillar three, active family and community engagement, is essential to successful delivery of integrated student supports.
Pillar three, active family and community engagement, is essential to successful delivery of integrated student supports.
State Funding for integrated student supports and resources
State budgets can provide funding to support the coordination and delivery of integrated student supports. This can include student/family resource centers and school-based health centers, for example, as well as the community school directors who are critical to ensuring tight coordination of services with minimal disruption to the school day. Some of the examples below also explicitly link funding for resource coordination to family and community engagement efforts. This is smart policy, since the two pillars are closely linked and, when done well, reinforce each other. (There are also examples of this linking in Chapter 5, on active family and community engagement.)
Kentucky has moved from consistently having one of the largest socioeconomic achievement gaps in the country to outperforming half of all states
As noted in the previous chapter, the Kentucky approach is highly compatible with community school implementation, since "the primary goal of these centers is to remove nonacademic barriers to learning as a means to enhance student academic success." Further, "each center offers a unique blend of programs and services determined by the needs of the population being served, available resources, location, and other local characteristics." A 2016 study reported that educators, parents, and community partners believe the centers are "a necessary component of Kentucky educational programming." The program, now recognized as the nation's largest school-based family support initiative, has achieved strong results. Kentucky has moved from consistently having one of the largest socioeconomic achievement gaps in the country to outperforming half of all states academically and having the smallest gap in the country, according to Education Week's Quality Counts rankings. The []"Building a Grad Nation Report" found Kentucky](http://www.americaspromise.org/report/2015-building-grad-nation-report) to have the country's smallest graduation rate gap between low- and non-low-income students.
Improved interagency collaboration makes it easier to link/braid relevant funding streams in schools...
State Support of interagency collaboration
Regulatory support for the delivery of integrated student supports and improved interagency collaboration makes it easier to link/braid relevant funding streams in schools (e.g., Medicaid, TANF, housing assistance).
In addition, the final report of the WISSP Commission offered several recommendations to make it easier for school staff to leverage outside resources to support students and families. These include revising or creating model policies to help districts partner more effectively with local health and human services agencies and community-based organizations; creating a state-level student support coordinating committee to increase equity in access to whole-child supports; and providing targeted implementation support to pilot sites. All of these activities create an environment conducive to community schools implementation, in which state regulations are easing the way for schools to partner with community-based organizations and local government agencies in a collaborative problem-solving process to meet student needs.
Municipal regulatory support for delivery of integrated student supports and ease of interagency collaboration
These policies identify services available in different communities or require that schools plan to offer integrated student supports.
State regulations are easing the way for schools to partner with community-based organizations and local government agencies...
---
Implementation
High-quality implementation is a crucial determinant of positive program outcomes. High-quality programs do not happen by chance. They result from policy choices, resource allocations, and technical assistance that support both staff capacity and student participation. They also depend on active family and community engagement, which is addressed in Chapter 5.
Characteristics of High-Quality Implementation
The following guidance is derived from research into community schools and integrated student supports, as well as lessons learned from the field. Effective implementation of an integrated student supports strategy requires attention to several factors:
Make sure that integrated student supports are deeply connected to the other community school pillars and to the school's core instructional program. The administration of integrated student supports should be overseen by a well-prepared resource coordinator (or community school director) who works closely with a team comprised of students, parents, teachers, school staff, and representatives from community partner organizations. The provision of integrated student supports should be managed collaboratively, rather than by any one individual at a school site.

Find ways to connect providing integrated student supports with improving teaching and learning conditions schoolwide, including a positive climate in which students feel safe and cared for. Make attention to integrated student supports an essential element of teaching and learning, as they equip children to take full advantage of high-quality instruction by removing nonacademic barriers to learning. Including integrated student supports in school improvement plans can help them become more fully realized.

Recognize the value of creating a school environment in which providers of integrated student supports are a central part of the learning environment itself, rather than viewed as "extra" or "less than" teachers and other academically focused staff. One way to support this level of integration and partnership is by inviting providers to participate in schoolwide professional development, and to lead professional development for educators and other school-based staff on support services for students.

The organizational and operational infrastructure for providing integrated student supports should be aligned and developed across the school, district, and state department of education. They should also weave together school, home, and community resources, drawing from other public and not-for-profit sectors, such as housing, health, and children and family services, according to research by the UCLA Center for Mental Health in Schools.

To be effective, integrated student supports should be geared to enhancing the capabilities, knowledge, skills, and assets of the child, the family, the community, and the school team. Effective plans include learning opportunities for students, as well as service provision.

Supports and services should be designed to meet observable or measurable indicators of success, so that progress can be monitored and plans can be revised as needed.

Provide sufficient flexibility to schools in their choice of services and in their implementation strategy. Successful schools tend to have an attitude of "doing whatever it takes" to support vulnerable students, working through setbacks toward achieving the goals established by a collaborative team.
---
Endnotes
| | |
| --- | --- |
| 6 | Child Trends describes integrated student supports this way: "Integrated student supports (ISS) are a school-based approach to promoting students' academic success by developing or securing and coordinating supports that target academic and non-academic barriers to achievement. These resources range from traditional tutoring and mentoring to provision of a broader set of supports, such as linking students to physical and mental health care and connecting their families to parent education, family counseling, food banks, or employment assistance. While ISS programs take many forms, integration is key to the model—both integration of supports to meet individual students' needs and integration of the ISS program into the life of a school." Moore, K.A., Emig, C. (2014). Integrated Student Supports: A Summary of the Evidence Base for Policymakers (white paper) Bethesda, Maryland: Child Trends. |